Services for children aged 11-18 Children and Young Person's (CYP) Service
Our one-year pilot scheme is addressing the mental health needs of children and young people of secondary-school age, filling a vital gap between the growing numbers of young people struggling with their mental health and the lack of mental health services currently available to them. 
Through a dedicated CYP multi-skilled team, comprising social workers, mental health practitioners and mental health support workers, we are offering services geared specifically to this age group, including:
• tailored one-to-one support to help children manage their symptoms, develop coping strategies, boost their self-esteem, and establish routine and structure in their lives
• wellbeing support
• ongoing assessments to ensure children are receiving the most appropriate support for their needs
• assistance to help children access further support in the community, including local authority and other charity services
• support to liaise with the child's school and other people involved in their life, such as their GP
We plan to extend the service after the pilot ends in Spring 2023.

Frequently asked questions for children, young people and their parents
What is the Jami Children and Young Person's (CYP) service and who is it for?
This is a trial service that offers personalised mental health and emotional support to young people aged 11–18.
What kind of things can be spoken about with a health professional?
Jami's CYP service can help a young person struggling with anything to do with their mental or emotional health, including anxiety, depression, self-harm, low self-esteem, bullying, difficulties at home, school stress and many other things.
How can young people be referred to the service?
The new service will be for a limited number of young people in the first year so that we can effectively monitor and evaluate it. If you are interested in using the Children and Young Person's (CYP) service, call Jami on 020 8458 2223 or fill in the website form at jamiuk.org/get-support/referral/ If we are at full capacity, we will contact you when we can accept new referrals.
Where will meetings with a health professional take place?
Young people can meet with members of our team wherever they feel most comfortable. This could be in school, in an outdoor setting, in Jami's Head Room Café in Golders Green or online.
What will sessions look like?
Sessions will be based on what each young person feels they need support with. This could include advice and signposting to other services or direct support from health professionals, such as occupational therapists, social workers and mental health practitioners. Working with our health professionals will be different for everyone and can include emotional and practical support.
Will what the young person says be shared with their parent/carer?
This will depend on the age of the young person, relevant consent and their situation. This will be discussed with both of you at the start of the sessions.
Will anyone else find out what is said in the sessions?
Jami sessions are confidential. Unless the young person tells us otherwise, we won't share the specifics of what is said within our sessions with anyone outside of Jami. The exception is if we believe that they or anyone else are at risk of harm, in which case we would share with those who need to know.
How often will these sessions be?
Every young person has their own personal treatment plan based on their needs, so we are unable to say how often someone may need to be seen.
How long will Jami's support last?
There is no time limit on how long someone can work with our service. The length of time will be discussed and reviewed with our health care professionals on an individual basis, dependent on need.
What happens if help is needed straight away?
If you feel that you're in need of immediate support, you can call any of the numbers below:
• Contact Shout via their 24/7 free text service if you're struggling to cope or need immediate help. Text Jami to 85258.
• Call the Papyrus HOPELINEUK for confidential support and advice for children and young people experiencing suicidal thoughts. Call 0800 068 41 41, text to 07860039967 or email pat@papyrus-uk.org. Opening hours: 10am–10pm weekdays; 2–10pm weekends and bank holidays
• Call Childline on 0800 1111 to speak to a counsellor if something is on your mind. Childline is open all day, every day, if you need a listening ear. Alternatively, you can use the 1-2-1 counsellor chat if you don't feel comfortable speaking over the phone: www.childline.org.uk/get-support/1-2-1-counsellor-chat/
• Use the Kooth website if you would like free, anonymous support via a chatroom with qualified counsellors. Find support at www.kooth.com
• Call 999 or NHS Direct on 111 (England) or 0845 46 47 (Wales) in an emergency
Can the young person receive support from Jami and CAMHS/NHS services at the same time?
We may be able to liaise or work together with other organisations if the young person and their family agrees. But it may be better for the young person to take a break from Jami support while they are receiving support from CAMHS, although we can continue to support parents and carers through our Carers and Family Support service.
What does Jami's Carer and Family Support service do?
To help parents, families and siblings, we offer services ranging from advice and signposting to emotional support and help to engage with other agencies.
To express your interest in our Children and Young Person's (CYP) service, call Jami on 020 8458 2223 or fill in the website form at jamiuk.org/get-support/referral/
Online counselling
Jami has partnered with Kooth Plc* to provide free, safe, online mental health and wellbeing support through an accredited platform called Qwell.
Using a smartphone, tablet or computer, individuals can gain immediate and anonymous access to the following support:
• Text-based counselling
Safe and confidential one-hour chat sessions with a fully qualified counsellor online via instant messaging
• Online peer support
Moderated online forums offering advice and support from other people with lived experience of mental health issues
• Self-help tools
Goal tracker – sets and tracks individual goals to support recovery or maintain wellbeing
• Confidential online journal
Articles and content co-produced by other adults and experts by experience
*Kooth Plc is the UK's leading online mental health platform and Qwell is accredited by the British Association for Counselling and Psychotherapy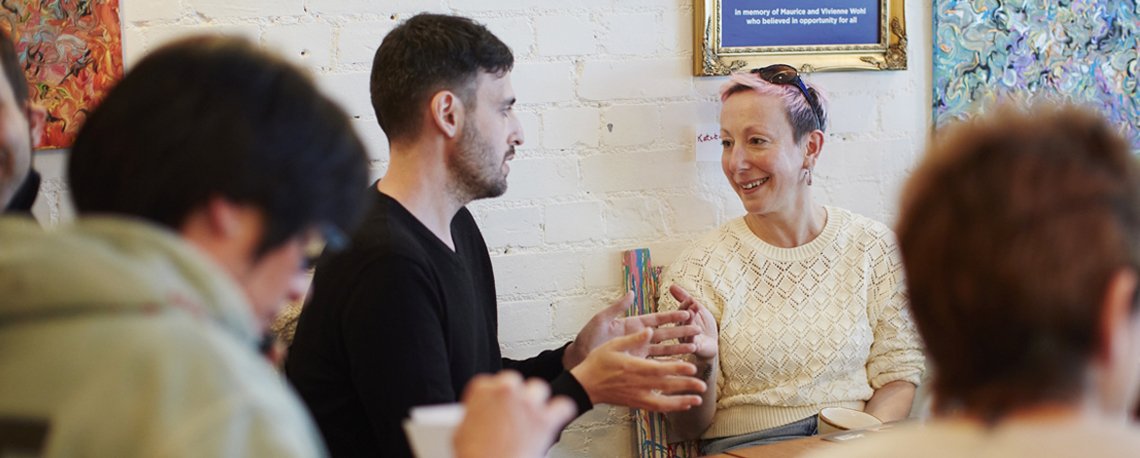 Education and training
We run online courses, seminars and events to increase mental health literacy. For example, to join like-minded people for some peer-to-peer education, check out our Education prospectus to see everything on offer. Anyone can join us for a one-off or weekly session, online or in person.
For more details about our training and education, click here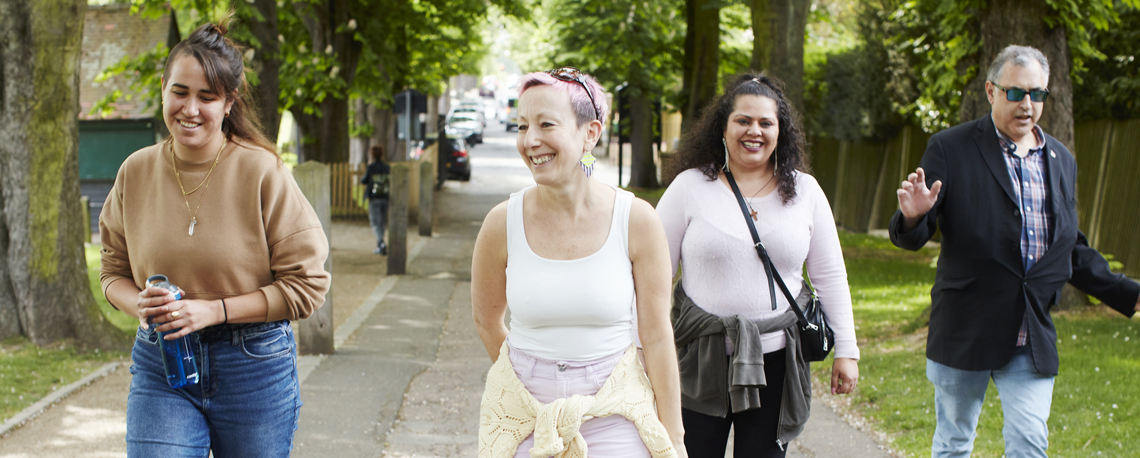 Group and peer support at Head Room
We provide learning opportunities, support, and connection with others through a weekly programme of community group sessions. These sessions are free and open to everyone, at Head Room in Golders Green and on Zoom.
For more details about our weekly in-person and virtual community programme, click here