Carer and Family Support service
We support unpaid carers who are caring for someone with a mental health problem. This service is carer led and is supported by a team of staff and volunteers who provide one-to-one and group support, in person, by phone or on video calls.
We support carers in many ways, including:
• meeting them individually and with their families
• carrying out assessments, focusing on their current and future needs
• providing emotional support in a confidential setting
• providing regular telephone support and groups through our volunteers
• offering a range of carer groups, some of which are peer led. For example, we have groups specifically for male carers, female carers, carers of people with addiction, carers of people with an eating disorder, parents of children with autism and ADHD, and sibling carers
• connecting carers with other carers to reduce isolation
• supporting them to pursue education
• supporting them to participate in recreational and community events
• providing advocacy to help carers navigate the mental health care system and access health and social care services
• signposting to further services offered by Jami and other organisations
Advice and advocacy
Our advocacy service supports and empowers carers/family in the community, who were previously unheard, to have a voice. Individuals are enabled to make informed decisions about issues that matter to them and are informed of their rights. They are also empowered to exercise these rights and to develop self-advocacy skills to use and practise independently for their future.
If we feel there are other organisations that can better meet a carer's needs, we will advise and signpost other services to help them get the support they require.
Online counselling
Jami has partnered with Kooth Plc* to provide free, safe, online mental health and wellbeing support through an accredited platform called Qwell.
Using a smartphone, tablet or computer, individuals can gain immediate and anonymous access to the following support:
• Text-based counselling
Safe and confidential one-hour chat sessions with a fully qualified counsellor online via instant messaging
• Online peer support
Moderated online forums offering advice and support from other people with lived experience of mental health issues
• Self-help tools
Goal tracker – sets and tracks individual goals to support recovery or maintain wellbeing
• Confidential online journal
Articles and content co-produced by other adults and experts by experience
*Kooth Plc is the UK's leading online mental health platform and Qwell is accredited by the British Association for Counselling and Psychotherapy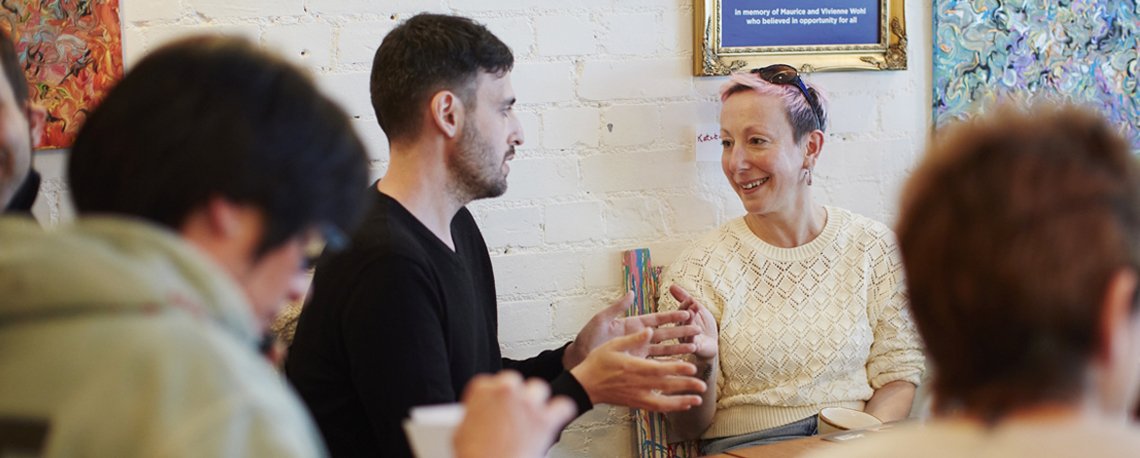 Education and training
We run online courses, seminars and events to increase mental health literacy. For example, to join like-minded people for some peer-to-peer education, check out our Education prospectus to see everything on offer. Anyone can join us for a one-off or weekly session, online or in person.
For more details about our training and education, click here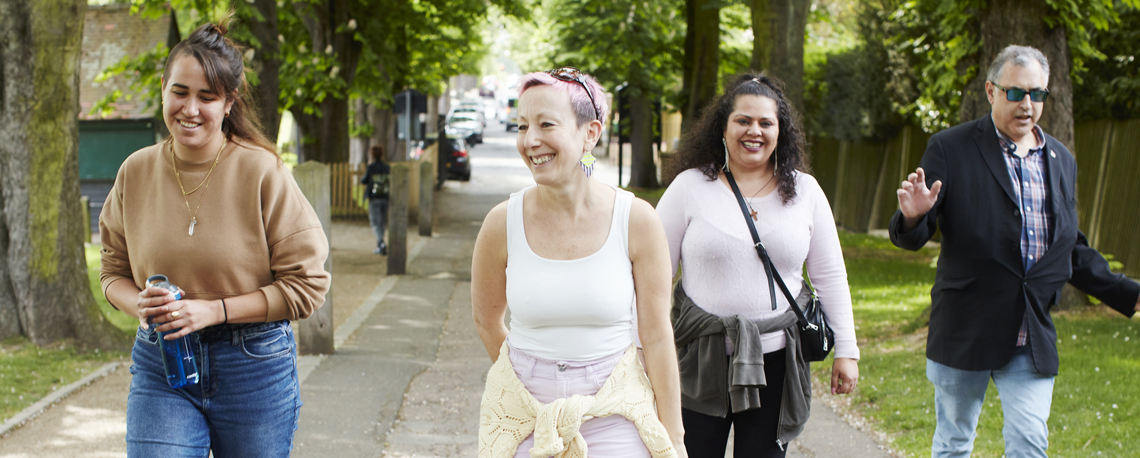 Group and peer support at Head Room
We provide learning opportunities, support, and connection with others through a weekly programme of community group sessions. These sessions are free and open to everyone, at Head Room in Golders Green and on Zoom.
For more details about our weekly in-person and virtual community programme, click here
Click on our groups below to find out more.