Mental Health First Aid is an internationally recognised training course which teaches people how to spot the signs and symptoms of mental health problems, as early intervention can often enable recovery.
This training course is the gold standard in equipping you with skills you can use as a 'first aid response' to help someone in distress.
You will learn more about a variety of mental health problems, including recognising and supporting people in suicidal crisis, look at treatments currently used in England and increase your confidence in supporting others.
Learning takes place through a mix of group activities, presentations and discussions. What you learn will depend on the length of course you attend, courses take place over two days, one day or a half day 'Mental Health Aware' introductory course.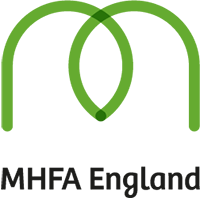 We are accredited providers of the following courses:
Adult MHFA f

or everyone aged 16 upwards.

Youth MHFA f

or parents, teachers or youth workers wanting to learn more about supporting young people.

Higher Education MHFA f

or anybody on campus, including students and staff. This will provide a deeper understanding of all issues that relate to student and staff mental health.
For more information about any of our MHFA courses please contact our Education team at [email protected] or call 020 8458 2223.