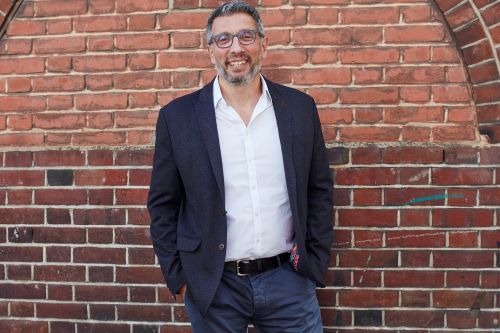 November marks Men's Mental Health Month, an annual campaign dedicated to raising awareness about the mental health challenges faced by men. It is crucial in addressing what is an often-overlooked issue and breaking the stigma surrounding it. Laurie Rackind, our chief executive, talks about his experience of men's mental health while leading Jami.
Our health is part of our stature. It's hard to admit failure when it comes to our physical health, so it's especially hard when it comes to our mental health. Mental illness is often perceived as a weakness. In the main, this is down to ignorance and a lack of understanding.
I think middle-aged men have been brought up to believe we should deal with problems ourselves. We haven't developed the skills to have proper conversations. They tend to be work or sport related rather than emotional. For example, when I used to go to the gym before work, I would hear middle-aged men talking about their neck and knees hurting. It was like physical-ailment tennis, with each man trying to outdo the next with his physical aches and pains. I suspect they wouldn't have spoken about their mental health in the same way, although doing so would have helped them so much more.
Having proper conversations
It's automatic to say we are fine when someone asks us how we are. But we need to recognise how we are feeling and why, and to acknowledge when we are feeling stressed or low. I made a commitment that when I ask someone how they are, I take the time to listen and, better still, ask the person how they are feeling that day. By setting the context, it's easier for someone to open up. Once you've started the conversation, it's also easier to continue it.
Having these conversations and being able to recognise that someone is unwell is one of the biggest tools in preventing suicide. Sadly, men are more likely to take their own lives than women, and middle-aged men are the most vulnerable. We sometimes look for a reason for suicide as we try to make sense of the feelings we have when we lose someone in our lives so tragically. It takes us time to heal and we often want to know, could we help someone tomorrow if they told us about their suicidal thoughts? We can empower ourselves to support people in this situation as I learnt myself.
Addressing suicidal thoughts
I was privileged to do one of the first-ever suicide first aid courses, alongside directors of other mental health charities. You learn some very simple interventions. It boils down to asking people if they have suicidal thoughts and, if so, whether they have a suicide plan. If someone told me they had suicidal thoughts, I would listen with compassion and tell them to seek professional help. If they then shared that they had a plan to take their own life, I would be taking them to A&E. These conversations are hard, but they can be hugely effective.
Getting men to open up
Jami runs a peer support group, specifically for men caring for a person with mental illness, to encourage men with shared experiences to talk. According to a survey by the Carers Trust and the Men's Health Forum, 56% of male carers said that being a carer had a negative impact on their mental health, so it's important to support the mental health of all family members, including dads, brothers, husbands and sons.
However, the rest of the community needs to become better equipped to recognise the symptoms of mental illness and to be able to say: 'I just noticed you did this. Let's talk about it.' We should all aspire to talk about mental health in the same way we talk about physical health. It's only with knowledge and understanding that we will defeat the stigma.