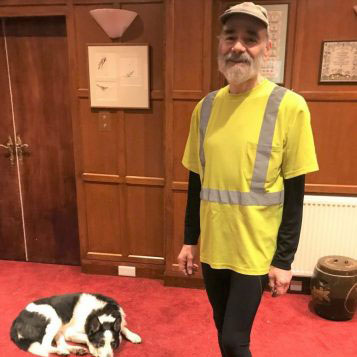 A Half Marathon for Jami, Noam and Marom – 2021
By Rabbi Jonathan Wittenberg, Senior Rabbi, Masorti Judaism
I ran a half marathon for Jami, and for Noam and Marom, the young people's branches of Masorti Judaism, to do what I could to enable these essential organisations to have the funds to help people.
Lockdown has been hard for everybody, impacting on each of us differently. For many, it has brought pain and grief. For all of us, it has affected our moods, heightened our fears and made us reconsider our hopes and expectations from life.
At first, like everyone, I worried most for the elderly, those living alone and the many courageous and compassionate people in the front lines providing health care, continuing to teach in pre-schools and schools, and keeping us supplied with food and basic services.
But I've also come to realise how especially hard this last year has been for young people, challenging the very sense that the world is a safe and benign place offering a future with a place in it for all. Hannah, a Noam and Marom Fieldworker, said "During lockdown, young people have had to deal with worrying about their families and confusion over exams and isolation. At the same time, a lot of their support structures suddenly don't exist or look very different. It is more important than ever that youth movements, as well as Jami, are able to continue providing support and a sense of connectedness".
As well as being crucially important in itself, Jami has contributed to a greater openness about mental health, making it easier to share and talk about our challenges. This, in itself, has often been a source of relief and solidarity. My colleague Rabbi Oliver Spike Joseph said, "One of the things I've learned more deeply over this Mental Health Awareness Shabbat is that behind every human face is a story. Some of us have struggled more in this last year than others, but the lesson is the same no matter the year: we can be a community that talks more honestly about our mental health, the support we need and how we each manage from day to day".
I know in myself how essential it is to have people to whom I can turn, who I know will listen with compassion and insight. I try, too, to be a listener for others.
I ran my half marathon on an icy January night. But I write these words on the eve of Tu B'shevat, the New Year for Trees, in the hope that the spring will herald a measure of hope and relief, that the new leaves and the wonder of nature will restore our spirit, and that the lengthening days will bring the sun which, in Malachi's words, will shine 'with healing on its wings.'
Find out more about the Mental Health Awareness Shabbat https://jamiuk.org/get-involved/mhas/