Mental health facts and tips
Why mark the Jami Mental Health Shabbat (JMHS)?
This special Shabbat is an opportunity for us to encourage conversations on mental health, raise awareness of mental distress and share ideas on how to support ourselves and others within our community.
This year the JMHS falls on Parashat Vaera. In Parashat Vaera, Moses tells the Jewish nation that their woes have ended and that redemption is at hand. This should have been a time of elation, but the Israelites were too overwhelmed by their own stresses to absorb this message. They had lost hope and could not imagine a positive future for themselves. Stresses in life may be inevitable but it is comforting to have hope that the future can bring our own personal redemption and in turn can bring us from darkness into light.
It really is more important than ever to get involved in this vital initiative. Let's make our own mental health and that of our communities a priority.
What can you do?
There are many ways that you, your synagogue, school, student group or youth group can get involved and each community or individual is free to mark the JMHS in their own way.
This Toolkit can assist you in doing so – for example, by using one of the many sermons or activities provided or using the conversation points as part of a discussion group.
Some communities choose to arrange for members of their congregation to share their own lived experience or invite mental health professionals to lead a talk, discussion or panel event. Jami will also have a great programme of online events that you and your community can participate in. Please go to jamiuk.org/jmhs for more details and to register.
Jami's educational courses & workshops
There are a variety of mental health awareness courses and workshops, facilitated by Jami, that can be booked for your community throughout the year.
You can host a Jami course or a bespoke learning event can be created for your community. 
For more information, please go to jamiuk.org/education
For any further guidance or support or to let us know what you have planned, please email Laura Bahar at laura.bahar@jamiuk.org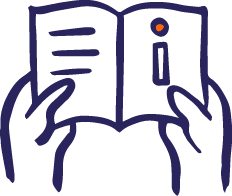 Key Facts on mental health
What is mental health?
Mental health refers to our cognitive, behavioural and emotional wellbeing – it is all about how we think, feel and behave.  It helps determine how we handle stress, relate to others and make choices.
Mental health also includes a person's ability to enjoy life – to attain a balance between life activities and efforts to achieve psychological resilience. 
What is mental illness?
A medically diagnosable illness that can result from a number of factors, including biological or developmental. It can affect the way we feel, act and think and disrupts our ability to work or carry out other daily activities and engage in satisfying personal relationships. It can be managed through prevention, diagnosis, treatment and mental health recovery.
What is mental health recovery?
Mental health recovery means being able to live a good life, as defined by the individual, with or without symptoms. It is a unique and personal experience that can have its ups and downs. Mental health recovery focuses on what a person CAN do rather than on what they can't. It is not necessarily easy or straightforward. Many people describe the need to persevere and to find ways to maintain hope through the most trying times.
Parity of Esteem
The principle by which mental health must be given equal priority to physical health. It was enshrined in law in 2012. The government requires NHS England to work for parity of esteem to mental and physical health through the NHS Mandate. This has still not yet been realised. 
Key facts on mental illness:
One in six adults experienced some form of depression in summer 2021, compared with one in five in early 2021. (ONS, 2021)

Rates of probable mental disorder increased between 2017 and 2021 in six to sixteen-year-olds from one in nine to one in six and in 17 to 19-year-olds from one in ten to one in six.  (NHS Digital, 2021)

In 2021, there were 5,583 suicides registered in England and Wales, equivalent to a rate of 10.7 deaths per 100,000 people. (ONS, 2022)

In a National Union of Students poll of 4,000 students, 52% reported that their mental health had deteriorated or been affected negatively by Covid-19. However only 29% of those had looked for help. (NUS student survey, 2020)

In a survey investigating how the Covid-19 pandemic affected Jews across the UK, a clear trend was seen with respect to synagogue membership. Mental distress is notably higher among those who are not synagogue members than among those who are. (JPR Hidden Effects Survey, July 2020)

People with mental health problems are nearly twice as likely as those without to say they have felt unable to cope due to the rising cost of living. (Money and Mental Health Policy Institute Report, 2022)
NHS 5 steps to mental wellbeing
Evidence suggests there are five steps we can all take to improve our mental wellbeing.
If you give them a try, you may feel happier, more positive and able to get the most from life.
Connect – Connect with the people around you: your family, friends, colleagues and neighbours. Spend time developing these relationships.
Be active – You don't have to go to the gym. Take a walk, go cycling or play a game of football. Find an activity that you enjoy and make it a part of your life.
Keep learning – Learning new skills can give you a sense of achievement and a new confidence. So why not sign up for that cooking course, start learning to play a musical instrument, or figure out how to fix your bike?
Give to others – Even the smallest act can count, whether it's a smile, a thank you or a kind word. Larger acts, such as volunteering at your local community centre, can improve your mental wellbeing and help you build new social networks.
Be mindful – Be more aware of the present moment, including your thoughts and feelings, your body and the world around you. Some people call this awareness "mindfulness". It can positively change the way you feel about life and how you approach challenges.
Practising each of the five steps to wellbeing every day can have a very positive impact on your mood and wellbeing. These are also things which are encouraged in the Jewish tradition.
The Five Ways to Good Mental Wellbeing & Judaism has been designed by Good Thinking in collaboration with Jami, in consultation with Rabbi Miriam Berger and Rabbi Daniel Epstein, with the support of The London Jewish Forum, Maccabi GB and the London Borough of Barnet.
You can read the full leaflet here.
Where to get help with your mental health
If you or someone you know needs mental health help there are a variety of options depending on the issue of concern.
Jami Qwell – free, safe, anonymous mental health counselling and online support from the UK's leading online mental health platform. To find out more go to qwell.io/jami
SHOUT – 24/7 crisis text service – Text Jami to 85258
Jami is here to help with mental health support: jamiuk.org/get-support/referral, call 020 8458 2223 or email info@jamiuk.org
Ring your GP or out of hours service for an emergency appointment
Contact your Community Mental Health Team (CMHT) if you have one
Samaritans – Call Samaritans on Freephone 116 123 (24 hours a day)

 

Call the Papyrus HopelineUK, on 0800 068 41 41 or text 07786209697 if you are under 35 and worried about how you are feeling. Or call if you are worried about a young person.

 

Call 999 or NHS Direct on 111 (England) or 0845 46 47 (Wales)
Jewish Helpline on 0800 652 9249 (Sunday – Thursday 12:00 – 00:00; Friday 12:00 – 15:00)
Don't hesitate to call 999 in mental health emergencies