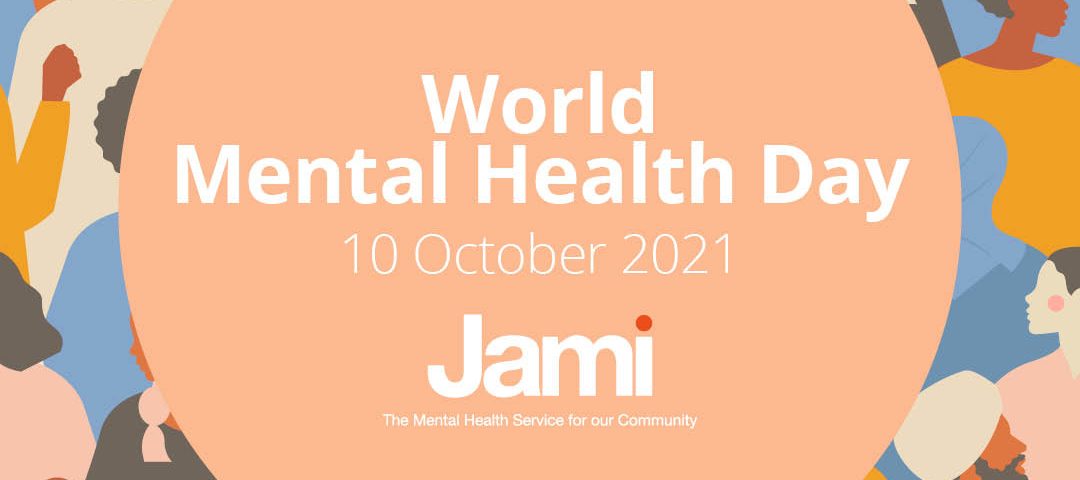 Blog by Emma Dorman, Jami Senior Education Coordinator
This years' theme for World Mental Health Day, celebrated yearly on the 10th October, is Mental Health in an Unequal World. The past 18 months have been a learning curve for many of us both individually and societally, and one of those lessons has been about lifting the rose-tinted glasses on the world around us. At the start of the pandemic, many people spoke about how we were all in the same boat. This rallying cry of unity was undoubtedly well-intended, yet many reflected that this was not their own experience, so we nuanced our messaging. We weren't necessarily all in the same boat although we were all weathering the same storm.
Mental health and illness are just one of the many strands of inequality that we face as a society, as well as race, religion, sexual orientation, gender, age, social class or disability. Individuals and groups that identify within these categories may face stigma and discrimination on a daily basis, as well as within their experience of healthcare.
The term parity of esteem is often mentioned when discussing the different levels of funding and visibility that mental health receives in comparison to physical health. Whilst mental health problems account for 23% of the burden of disease in the UK, mental health services receive only 11% of the NHS budget. When it comes to young people's mental health services, the number shrinks to 0.7% and approximately only 6.4% overall. The same disparity in funding can be seen in research – UK institutions researching mental health receive only 5.5% of the UK health research budget. This lack of parity partially accounts for why many people dealing with mental illness and distress do not receive the care they deserve. And why, in some cases, individuals and their families and carers continue to face stigma and discrimination.
According to the Mental Health Foundation, of all groups facing a long-term health condition, those with a diagnosis of mental illness are least likely to find employment, sustain a long-term relationship, have access to adequate housing and be accepted by mainstream society. The impact of stigma brings with it an inequality that can colour the everyday experiences of the 1 in 4 adults in England who experience mental distress each year. Not only can it make life milestones harder to achieve, but it can escalate mental health problems and be an obstacle to recovery.
Mental health inequalities do not exist in a vacuum, they intersect with other strands of inequality. We know that many minority communities experience a higher prevalence of mental health conditions. For example, older South East Asian women are an at-risk group for suicide. Men from Black Afro Caribbean backgrounds are more likely to have experienced a psychotic disorder in the past year than white men. Over half of LGBT people (52%) have experienced depression in the past year, and Recovery in the Bin estimates that hundreds of people are dying or at risk of suicide as a result of cuts or withdrawal of their benefits leaving them in abject poverty.
As a society it is our responsibility to ask the hard questions. Why do marginalised groups experience higher rates of mental distress? And, crucially, what can we do about it? The conversation starts with awareness. Many minority communities are more likely to experience risk factors; areas of our lives which make us more vulnerable to experiencing mental ill health. These include a lack of access to or distrust of services; experiences of immigration which may include language or communication differences and navigating new cultural norms; as well as the impact of stigma and discrimination.
This World Mental Health Day let's ensure our conversation on mental health is not a one off, and let's go one step further too. Who continues to be unrepresented in conversations about mental health? Who needs a seat at the table? Whose voices continue to be unheard? How can we ensure the dialogue on mental health is inclusive? Services need to be implemented and designed with our diversity in mind and treat all people, especially vulnerable people, with the dignity, fairness and respect we deserve.
Get support
Jami is the mental health service for the Jewish Community. If you need support or are supporting someone who needs help, visit https://jamiuk.org/get-support or contact 020 8458 2223.
If you are struggling to cope or need immediate help, contact Shout's 24/7 crisis text service. Text Jami to 85258 for free, confidential support.
For free, safe and confidential online counselling and emotional wellbeing services for adults, contact Jami Qwell at  www.qwell.io/jami