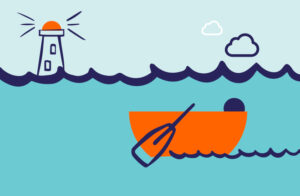 Between February and May 2023, all staff members and volunteers at Jami, the mental health service for the Jewish community, will be undergoing suicide prevention training. This is to ensure that everyone can play their part in working to reduce lives lost to suicide.
Philippa Carr, Jami's education manager and Emergency Response Initiative Consortium lead, says: "All our staff will benefit from taking time out to think about how people are affected by suicidal thoughts, how suicidal behaviour disrupts a person's life and how distressing that is for them. It's also a good reminder that we all have mental health and that it can deteriorate in life's great yet complex journey."
For Jami, making sure that its whole workforce can have those life-saving conversations is paramount, not just because they may be working with people who use its services, but also to support staff mental health. As Philippa explains: "We're not just thinking about the people we serve. We also need to be looking out for each other. Through simple and life-affirming mechanisms, we can help people take that first step on the road to recovery."
The training, which is being delivered by Grassroots Suicide Prevention, a leading suicide prevention charity and campaign organisation behind the Stay Alive app – an award-winning app that has saved many lives already – will be particularly important for managers and volunteers. "For managers, it's about being confident to check in with their team and have the skills to begin the conversation if someone is distressed," says Philippa. "For volunteers, especially Jami's befriending volunteers, this training will be invaluable in helping them to support someone who may open up about having suicidal thoughts. She adds: "It's not the volunteers' job to offer treatment, but it is an opportunity for them to be able to acknowledge what they've heard, and then help that person to find the appropriate support."
As part of Jami's suicide prevention strategy, the organisation is constantly reflecting on the best ways to prevent suicide. It has already put mental health support on the high street through its Head Room café in Golders Green. In addition, it brought together and coordinates the Emergency Response Initiative Consortium (ERIC), a partnership of voluntary sector agencies that provide guidance and a face-to-face first responder service to Jewish schools after a student suicide or sudden traumatic death. And in March, Jami, together with Barnet Council and Community Barnet, will be holding an online and in-person session, inviting people from the Jewish community to share their ideas and thoughts about how to save lives and support each other's mental health and distress.
But in the meantime, Jami sees its suicide prevention training for all staff members – not just clinical staff – as the next step in supporting as many people as possible to gain the skills to have these life-saving conversations. And, as the mental health charity for the Jewish community, it is clearly leading the professional field on this.
If you need support or are supporting someone who needs help, visit
jamiuk.org/get-support/ or call 020 8458 2223.
 If you are struggling to cope or need immediate help, contact Shout's 24/7 crisis text service. Text Jami to 85258 for free, confidential support.
 For free, safe and confidential online counselling and emotional wellbeing services for adults, contact Jami Qwell at www.qwell.io/jami
For face-to-face support, contact The Listening Place at listeningplace.org.uk/ or call 020 3906 7676. You can self-refer via a form on their website.
 If you're under 35, call the Papyrus HOPELINEUK on 0800 068 41 41 or text 07860 039 967