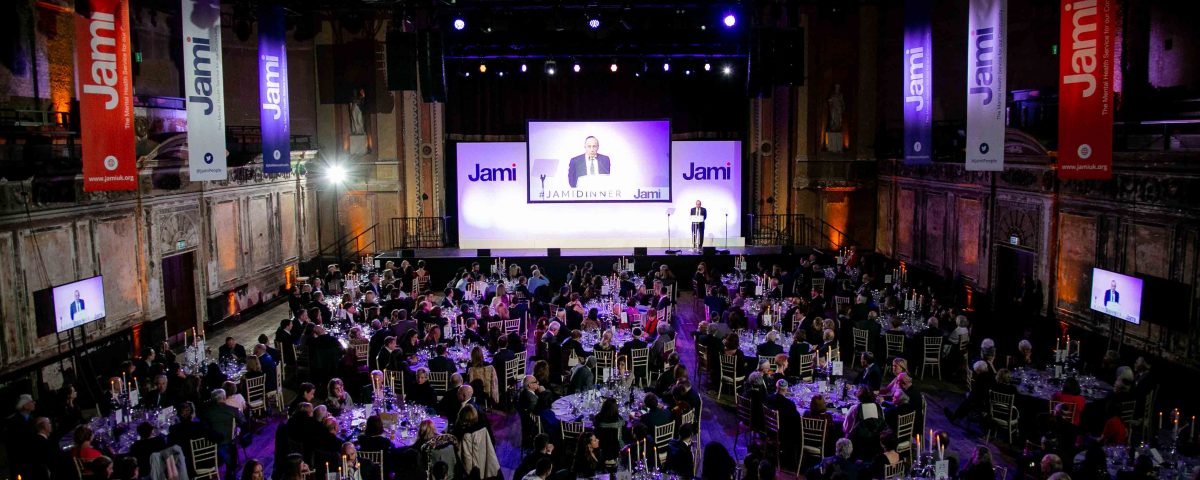 On Thursday 23rd January, the Jami Dinner was held at Alexandra Palace Theatre.
In Jami's 30th anniversary year, 340 people attended the dinner and raised over £330,000.
Welcoming guests, Martin Aaron, Honorary President and founding trustee of Jami, reminisced about how difficult it was to get mental illness recognised as a serious health condition. A challenge we continue to address, striving for parity of esteem between mental and physical illness.
Sir Brian spoke about his remarkable legal career, the impact the criminal justice system has on the mental welfare of those who journey through it, and how fortunate the Jewish community is to have an organisation dedicated to providing life-changing services to resolve the social care issues resulting from mental illness. This was echoed by Jami Chair, Adam Dawson, who spoke about "the often invisible but devastating effect of mental illness" and how Jami is at the front line of service provision, for services which – in many instances – are not easily available elsewhere.
"I wouldn't be here if it wasn't for Jami" Richard, creative writing group facilitator
In the film shown, we heard in their own words, how Jami has impacted the lives of a few of the people using our services. Watch the film here.
In summing up the evening, Sue Mandelbaum, a Jami Trustee, implored everyone to spread the word to raise awareness of mental health and ensure those who need Jami's support can access it.